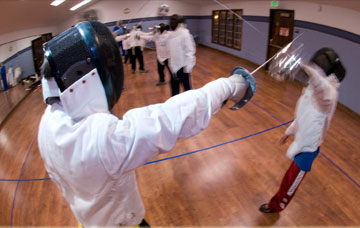 The Fencing Academy of Denver offers the highest-quality fencing instruction. Tom Strzalkowski and Alex Kovacs have a combined 50-plus years experience fencing and a passion to pass on what they have learned to the next generation of fencers..
The Academy stands out from the others. We offer:
COMPETITIVE EXPERIENCE
Our coaches have competed at the national and international levels. Tom Strzalkowski was a member of the 1996 Olympic Fencing Team, as well as a five-time U.S. National Team Member and a three-time NCAA Champion. Alex Kovacs has been a consistent finalist in National Veteran's competitions and has medaled in World Veteran's Championships.